People sometimes use shady tactics to bring down a rival website by plunging its rankings. A negative SEO attack can achieve this.
There are many ways in which this attack is carried out. The ultimate result caused by this is that your website rankings go down. As a search engine, Google scraps your website from the SERPs (Search Engine Result Pages).
This, in the end, decreases the traffic to your website, making you suffer losses.
That's why we decide to come out with a basic tutorial about negative SEO and tell you how to avoid negative SEO effectively.
1. What Is Negative SEO
Negative SEO is a series of practices to lower your website's ranking in the search engine results done most probably by your competitors or someone who wants you to see financial or branding losses.
In most cases, negative SEO is achieved by creating wrong links. But many other techniques may cause the downwards of your website ranking.
Types of Negative SEO Attacks
Hacking your website.
Remove quality backlinks from your website.
Point low-quality links to your site with keywords, such as adult, poker, and Viagra.
Steal, copy and deliver your online content all around the Internet.
Build massive spam links to your website.
Creating fake reviews about your business.
If you search the Internet, you can find many bad guys who are willing to make a negative SEO attack for you in return for money. In these scenarios, prevention is better than cure.
Instead of waiting for an attack to happen, it is better to already have a defense in place. This can drastically minimize any losses you might suffer if your website has suffered a negative SEO attack.
2. How to Avoid Negative SEO
Here are some tactics that can help you avoid negative SEO and maintain a high ranking for your website.
2.1 Track the Backlinks
When it comes to the backlink profile, it allows you to monitor all the links created for directing your website. If it shows an unnatural spike in the number of links, it means that your website is being attacked.
But to be safe, you must do a detailed analysis because this does not always mean that negative SEO is being done. Some of the tools that can help you track the links are NeilPatel.com (Free), Google Search Console (Free), SemRush (review and tutorial here), AHREFs, and Majestic SEO.
2.2 Protect Your Backlinks
Sometimes, a negative SEO attack can happen in the form of the removal of good links. A spammer can request to remove the link using your identity. To avoid this, you can use an email address created with your domain instead of the conventional Gmail or Yahoo.
In the example below, you see how such a request looks like:
You should keep track of your backlinks using a tool called Monitor Backlinks. If you notice any lost links in a short time, it may mean that somebody is actively contacting the websites linking to you and asking for removal.
2.3 Use Google Analytics to Search for Irrelevant Keywords
Run Google Analytics on your website and take note of the keywords that lead your visitors there. If you see any keywords that should not be there, you must investigate them and find out how they have got there.
Check in the example below how someone made a negative SEO attack on our website, mainly focusing on this page by creating a bunch of low-quality backlinks with adult-related anchor texts: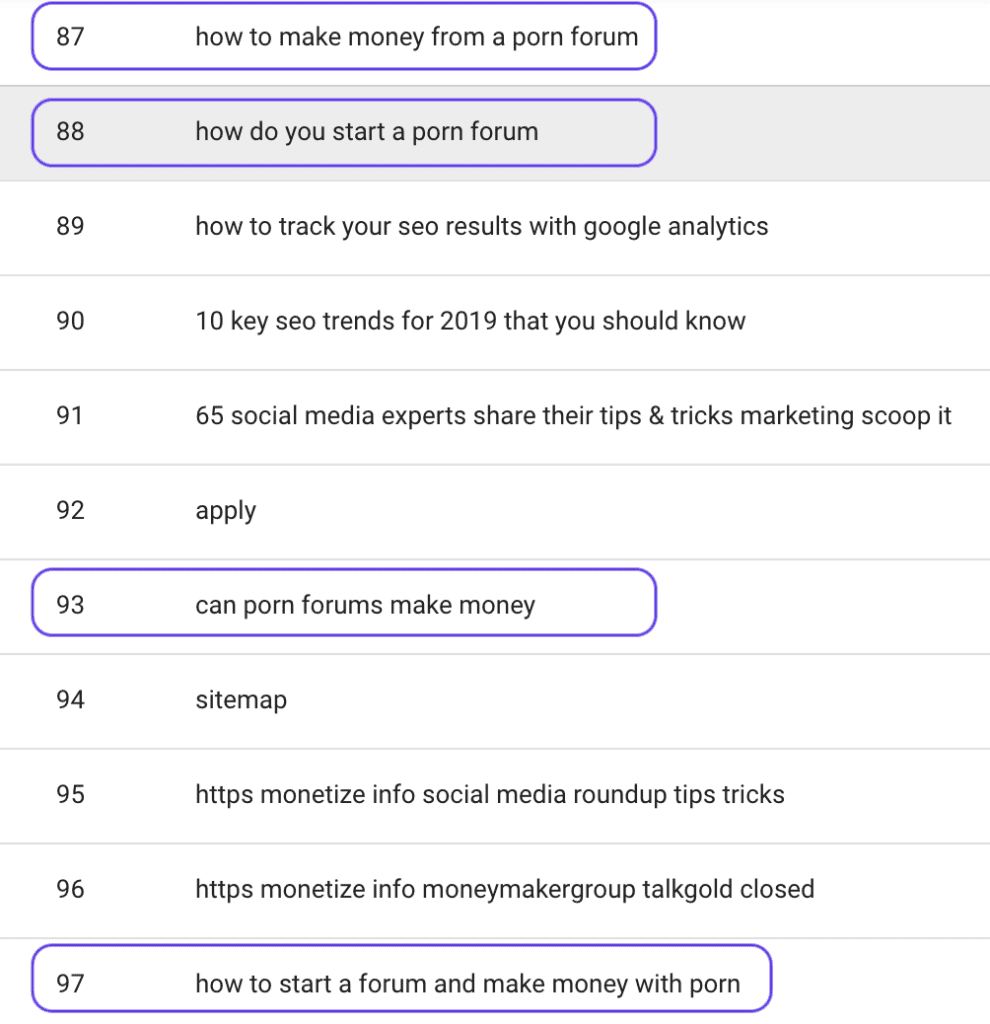 2.4 Avoid Content Scrapping
Sometimes just writing intriguing content is not enough to gain viewership. You also have to check whether there is someone out there duplicating your content on another website. For this, there are many tools available online, like copyscape.com.
2.5 Get a List of Referring Sites and Identify the New Ones
You need to get a list of the sites referring to your website one month ago and another list of these sites two months old. Compare the lists and see which of these sites on the one-month-old list are not found on the two-month-old one. These are the new referring sites. Look for anything that might seem odd about them.
2.6 Keep a Watch on the Site Loading Time
Negative SEO can also be done by a spider crawling your site and storing the contents in a database so many times. This can increase the site loading time.
If you are experiencing a more than average site loading time, you need to access your servers' log and find out which program has been using the most resources. You can then block that program.
Also, using services as CloudFlare will help to keep scrapping bots out of your website.
2.7 Have Someone Check Your Website
Find some volunteers and ask them to go through your website online. Ask them to search for your site on a search engine and see how easily they find the site or posts using the right keywords.
Tell them to look for any delays in loading, how it is viewed, or how easy it is to browse through. Ask for their feedback. This can help you know whether your website is working correctly.
2.8 Set Up Google Alerts to Track any Fake Reviews
Another way to do negative SEO is by posting fake negative reviews on your website. These reviews may discourage people from visiting your website and hence destroy the ranking. Some of these reviews might be genuine.
If you suspect them to be fake, then run them on Google search and see if the same reviews are posted on any other websites. Another way to track such reviews is to set up Google Alerts with your website's name as a keyword.
2.8 Use Google Search Console to Set up Email Alerts
With Google Search Console, you can set up alerts to be received by email if something wrong happens on your website. For example, you can know whether there is malware attacking your site or some pages of your site that are not indexed.
2.9 Protect your Website from Malware Attacks and Hackers
Make sure that your website is safe and secure from hackers. You can install WordPress security plugins like Defender or WordFence to protect your website. We have created a particular security page that contains a series of tips about website protection.
3. Conclusion
Negative SEO attacks are a real threat.
And even though you can disavow links or report them to Google, it might take some time before Google can conclude that you are innocent and not the one who's behind the Black Hat practices.
It's better to be safe than sorry. Now that you know what negative SEO is, set aside sometime now and then to check for negative SEO, and if need be, resolve it using whichever technique is most appropriate.
It is also a good idea to be nice to others and avoid giving anyone any reason to attack you in the first place. After all, being nice is free.
Further readings on Negative SEO:
What Is Negative SEO? (And How To Tackle It) on Semrush blog.
How to Protect Your Website from Negative SEO on NeilPatel blog.
Negative SEO (Case Study) – Cleaning up an Attack With Ahrefs on Kinsta blog.